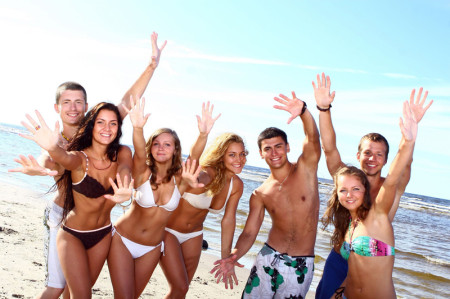 Capenews.net – The summer has gotten off to a rocky start with a rash of vandalism and nighttime parties at South Cape Beach State Park, prompting management to close the beach to visitors after 8 PM for the remainder of the season.

The gates to the park have traditionally been open for nighttime visitors after the park stops charging for beach parking at 5 PM.

The new gate closing policy took effect after the July Fourth holiday weekend.

John J. Singleton, facilities supervisor for the Waquoit Bay National Estuarine Research Reserve, which oversees the park for the Massachusetts Department of Conservation and Recreation, said the new policy has been very effective in curtailing rowdy after-dark behavior at the beach.

"We cater to people during the day, not people at night. Closing the gates at 8 PM is the best thing we've ever done," he said.

At the Tuesday, July 15, meeting of the South Cape State Beach Advisory Committee at Mashpee Town Hall, Mr. Singleton described some of the hooliganism that occurred at the park earlier this season.

Mr. Singleton also reported that he came across a full-fledged party, complete with a disc jockey with generator-powered speakers, set up on the beach one evening.
Oh my god! I for one can not believe this. I've heard whispers and horror stories about this kind of thing before, but never this close to home. I can not believe that right here on our own peninsula, right under our noses, there has been actual… real… full fledged… HOOLIGANISM?!?!?
(quick press play)
Hey you know what people did at South Cape Beach at night in the '70's? They partied. Hey you know what people did at South Cape Beach at night in the '80's? They partied. Hey you kno… Alright you get the point.
The Fun Police should just cut through the chase and shut the whole world down at night. Seriously, just close earth at 6 p.m. Sorry folks, but the roads, the woods, the beaches… all closed. Earth will re open in the morning, but until then just lay in bed and stare at your idiot box until 7 a.m. You all just can't be trusted to use earth at night, sorry.
P.S. Whoever threw that party with the DJ, a generator and speakers?  How about a heads up email next time?
P.P.S. Did you know that in other vacation destination areas they actually let people party on their beaches? Insane right? Don't they know the best way to attract visitors is to frown upon fun and not allow them to do things they can't do at home?
Facebook: The Real Cape
Twitter: Hippie - Insane Tony