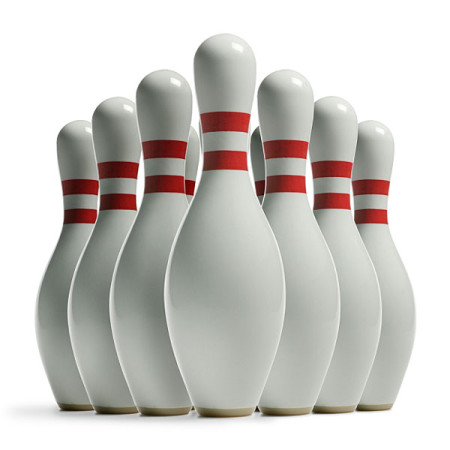 MVTimes.com – Appearing before the Martha's Vineyard Commission (MVC) for the second time in two weeks, developer Sam Dunn attempted the regulatory equivalent of bowling's 7-10 split. At a packed public hearing Thursday, night, Mr. Dunn attempted to mollify critics of the bowling alley/entertainment center he proposes to build in Oak Bluffs and meet commission member questions and concerns on a range of topics from parking to trees to bowling pin noise.

In a brief conversation Friday, Mr. Dunn, an experienced developer, expressed weariness with the demands of the hearing process.

"Regarding the noise, I don't think we should be held to a standard higher than any of the neighbors," he said. "Are they totally inaudible when they sit on their porch and talk or play the radio? The extra costs keep adding up."

Mr. Dunn noted that he had provided additional studies on top of earlier studies, modified his project and cleared the project with the state Department of Environmental Protection (DEP).

"It took an additional $70,000 to get the DEP to sign off," he said. "I gave up two lanes and shortened the hours, added affordable housing. They just keep chipping away. This can become a death of a thousand cuts if these things keep piling up."
Just an absolute classic fun police situation here. This experienced developer is looking to bring a multi use facility that will generate jobs and only elevate The Vineyard's status as a vacation destination. Sounds awful right?
So far they have made him lose two lanes and shorten hours. It's as if these people have no idea how a business works. News flash, if you take away part of the income source and then limit the amount of time they can monetize what they have, eventually the numbers no longer work.
Sam Dunn's "death by a thousand cuts" analogy is perfect for the Fun Police. They take a great idea that is good for the community and they nit pick it to death. Not only will they force you to make your patrons use sign language to keep the volume down, they will also make you offer free methadone in the section 8 apartments they forced you to build as well. Lord knows families from New York definitely want to navigate through the type of townies who rent affordable housing above a bowling alley every time they take the kids for a little ten pin.
Someone needs to build an entertainment complex for the Fun Police. It could be a big warehouse where there are projects going on in different areas. Each member gets to drum up a bunch of regulations for their pet project and the first one to bring their entire operation to a screeching halt while wasting the most possible money wins. Maybe this would keep them busy enough in their fake world that they'd stop dreaming up ways to ruin our real one.
Facebook: The Real Cape
Twitter: Hippie - Insane Tony