I just couldn't keep you waiting..
..Soo I left off with everyone in a Hooters cab, me posing with a stuffed frog and Alicia Keys blasting through the windows. Once that was done, we got dropped off at a club that Bow-Wow said was 18+ so that her and Nougat could join – it wasn't. We roamed around for a while and finally got a seat at an outdoor place that wasn't too strict with ID's but was lame. Luckily, Frigid and I raised Bow-Wow to be classy broads like us and she had a flask of fireball in her purse so we were good. At one point, some dude tried to weird hit on us, but we demanded to see his ID and asked him how much money he made. Then for some reason we never figured out, the owner came over and caused a scene, demanding the creepy guy leave the bar – we obviously started accusing him of sleeping with her and told him he better go.
Poor guy.
It was time to dance. We left the lame bar and headed towards the sound of club music and bad decisions.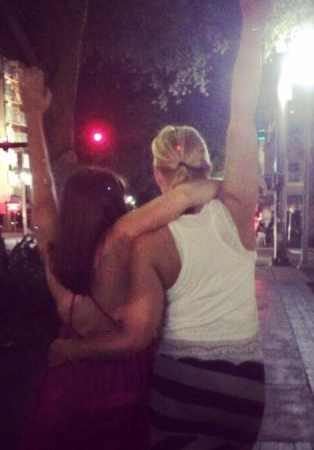 Pookahontas almost immediately found her place in life and perched atop some sort of shelf that she quickly turned into a stage where men were offering her money and women were bowing down at her undeniable fist pumping ability; it runs in the family: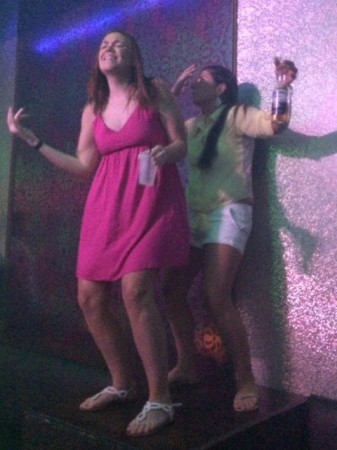 I had a couple of dance-off's and everyone shook their asses. Frigid was dropping it like it was hot, then kind of stopped moving. At first, we just thought she was "getting low", but then we realized that she was just using a speaker to hold herself up and that she in fact had fallen asleep mid-dance and could no longer move. We helped her to the couch and continued dancing.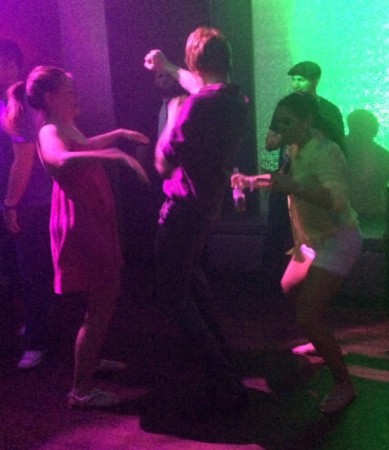 *I have no idea what I'm doing with my arms here or what Pookahontas is doing with her body in general
Once Frigid started drooling I knew it was time to go. We called the Hooters cab driver and held Frigid up while we waited.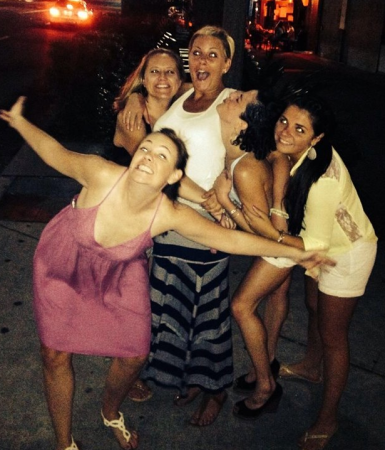 *literally..held her up..
I demanded Hooters cab driver take us to Taco Bell – I flung open the van door and ordered $50 worth of tacos, and a cinnabun pack for my homey, (the cab driver). We ate everything, except one taco that Frigid had for breakfast the next day with coffee and a cigarette.
End night one.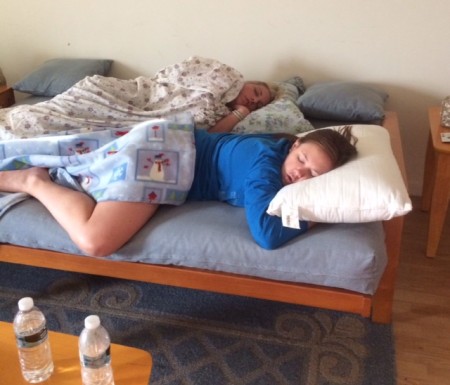 The following morning we once again headed to the beach but decided to "take it slow with day drinking". Riiiiiiight..  Frigid, Pookahontos, Buddy and I headed to the beach bar for Landsharks and Michael Jackson. We made friends with a lesbian named Deb that invited us out for the Bruins game. No thanks, Deb..no thanks.
We eventually made it home where Nougat and I spent almost an hour trying to catch lizards while everyone got ready to go out. I found a cool sports bar to watch the game and off we went to pile into the swagger wagon for chicken wings and buckets of beer. This place was AWESOME.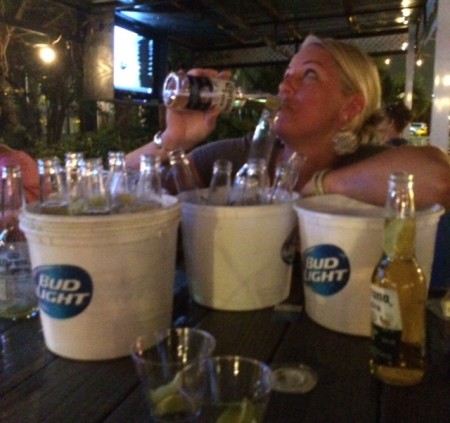 This bar was hands down the largest establishment I've ever been in and after crushing roughly 7 Corona buckets and 4 pounds of wings, the B's won and we headed towards the stage in the back where some dude with skinny jeans and high tops was rocking out.
I'm going to pause here..and continue onto Part 3 next week…because this is when we started to meet celebrities and shit got REAL.
Stay tuned..
Facebook: The Real Cape
Twitter: Hippie - Insane Tony
More Articles From The Real Cape: