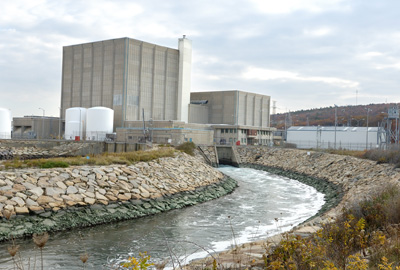 CapeCodOnline.com – Four members of a Cape-based activist group were arrested Sunday for trespassing onto the Pilgrim Nuclear Power Station property to plant flowers.

Diane Turco, a Harwich resident and founder of the Cape Downwinders, and group members Sarah Thacher and Susan Carpenter of Dennis, and Mary Conathan of Chatham, were arraigned Monday in Plymouth District Court on charges of trespassing.

"The judge commented that this seems to be an annual event," Turco said following the arraignment. The next court date was set for July 31 for a pre-trial conference.

Turco, Thacher and Carpenter, along with nine other protesters, were found guilty by a Plymouth District Court judge in March for trespassing on the power plant property in the spring of 2013.

Protesters began Sunday's Mothers Day rally at a park in Manomet, then marched down Rocky Hill Road to the nuclear power station.

"We had brought plants as a symbol of beauty, and four of us walked onto the property to deliver the flowers," Turco said. "Pilgrim's reactor is an aging factory of death and it needs to be shut down for all children, now and in the future."
Jeez, talk about a classic tale of the big bad energy company vs. hippies. Those poor liberals were just trying to bring Pilgrim Nuclear some flowers to pretty up the place and they are met with handcuffs. Tough to take sides on this one but here is what I wish came of this situation.
Pilgrim welcomes the protesters with open arms and lets them plant the flowers. Then they secretly feed them with radioactive material which causes the tulips to mutate into 8 foot tall Venus fly trap tulips that use hippies as a fuel instead of photosynthesis. Pilgrim then invites all hippies to come water the flowers whenever they want. Slowly the mutated tulips eat the hippies without a trace.
Eventually the authorities find out what's happening and arrest the Pilgrim Plant leaders forcing them to adopt new management that upgrades the plant and turns it into a flagship of safety. Win win, we get rid of some hippies and remove the danger of a massive catastrophe. Another solid plan of action brought to you by The Real Cape.
Facebook: The Real Cape
Twitter: Hippie - Insane Tony