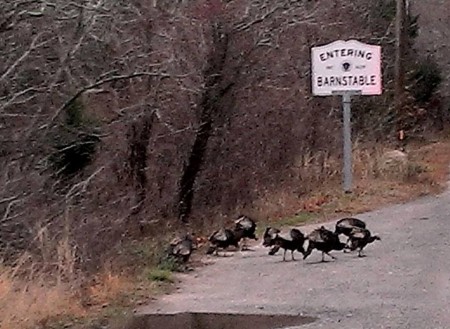 Many of you probably saw the above post on our Facebook wall asking for people to share pics of wild turkeys on Cape Cod. As expected, over 100 of you have responded so far. The responses have come from far and wide. Mid Cape, Lower Cape, Upper Cape, Outer Cape, it makes no difference. The turkeys are everywhere.
So what is going on around here? Is turkey the new black? I spent the first 18 years of my life dancing with wolves in the woods of Cape Cod and I saw exactly zero wild turkeys in all that time. So where did they come from and when did they become so prevalent?
Yes, I know there were tons of turkeys here when the pilgrims settled, blah, blah, Thanksgiving and all that jazz. I know they are not an invasive species, but they were not here for many, many years. Now they are window shopping on Main St. and attacking cars. Who do we talk to about extending turkey hunting season? Maybe it should be something like, I don't know, 24 hours a day, 12 months a year?
P.S. Can someone ask one of these turkeys what the secret to their rejuvenation is so we can teach it to the Piping Plovers and get our beaches back?
Facebook: The Real Cape
Twitter: Hippie - Insane Tony