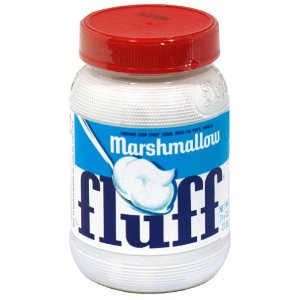 BOSTON (AP) — A bill that would make the fluffernutter Massachusetts' official sandwich has been given initial approval by state lawmakers.

The measure was advanced Tuesday on a voice vote during an informal session of the House of Representatives.
The fluffernutter — peanut butter and Marshmallow Fluff on bread — has remained a popular treat in New England for generations.

Marshmallow Fluff was invented in 1917 in Somerville and is made with just four ingredients — corn syrup, sugar syrup, dried egg whites and artificial vanilla flavoring. It's still made in a small manufacturing plant in Lynn.

The bill still needs another vote of the House before going to the Senate. It was filed by former state Rep. Kathi-Anne Reinstein of Revere.
Listen we aren't going to argue that Fluff is disgusting and should not be the Massachusetts state sandwich. These things are all for show and they are completely subjective, we get that. We are however calling for a formal investigation into whether or not Fluff uses beaver butt secretions as their "artificial vanilla flavoring".
That's right, beaver butt secretions. Don't believe us? Take a look at this. That's National Geographic folks, not The Onion. Beaver butt secretions are used in our food as a vanilla substitute. I for one will not stand for our state sandwich being nothing more than tossing a beavers salad!
Contact your representatives and demand answers, we the people deserve to know if our leaders are declaring beaver diarrhea between bread to be our official state sandwich.
P.S. Seriously, if beavers secrete vanilla flavoring from their anus how is it that they aren't just tossing each other's salads all day?
Facebook: The Real Cape
Twitter: Hippie - Insane Tony