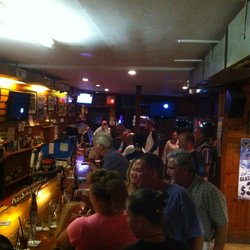 CapeCodOnline.com – FALMOUTH – An early morning fire Tuesday at the Towne Tavern on Main Street caused up to $5,000 in damage but put at risk a dozen apartment dwellers upstairs, according to the fire department. No one was injured in the fire, Deputy Fire Chief Michael Small said.

Rescuers and the police were called at 1:40 a.m. to 360 Main St. by a 911 call from an apartment resident above the tavern who reported smoke in his apartment coming from below, Small said.

The building is more than 100 years old, with a wood shingle exterior and an asphalt roof, and a mix of commercial rooms and ten bedrooms, town records showed.

All the residential apartments are above the first-floor commercial spaces, Small said. The apartments were equipped with individual smoke detectors, he said.

Upon arrival, firefighters found moderate smoke in the tavern and light smoke in the apartments upstairs, Small said. The fire department immediately called for additional manpower with a second alarm due to the "extreme life hazard" of the building and the obvious fact that there was a fire somewhere inside, he said. Firefighters had to wake up some people to get them to evacuate.
Hey Towne Tavern don't you dare burn down! For those of you not aware of this wonderful establishment here is the skinny, the Towne Tavern is the dive to end all dives. It is old and dark and there is a trough in the men's bathroom. They have appliances older than you and the drinks are cheap and strong.
In other words it is a true dive in the most classical sense of the word. The Towne Tavern is our kind of place. Nobody judges anyone there, patron or staff. There is simply not one tiny hint of pretension in the place or the people. Places like The Towne Tavern are dying off, getting torn down and replaced with soul sucking industrial boxes.
So please Towne Tavern, upgrade your electrical, add a sprinkler system or do whatever you have to do in order to not burn down. But don't change anything else in the place, it's perfect just the way it is.
Facebook: The Real Cape
Twitter: Hippie - Insane Tony
More Articles From The Real Cape: