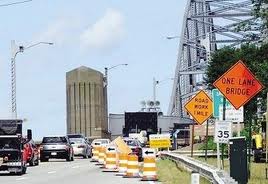 CapeCodOnline.com – All lane restrictions on the Sagamore Bridge have been lifted for the remainder of the spring into the summer, the U.S. Army Corps of Engineers announced today.

The bridge's four travel lanes, which have been restricted due to ongoing painting work on the bridge, will remain open until after Labor Day.

The $12.4 million painting project on the Sagamore Bridge began in March 2013.
You have to hand it to the Army  Corps of Engineers on this one folks. Through one of the worst winters in the history of Cape Cod they managed to undergo a massive project and still keep their promise of a fully functional bridge by Memorial Day weekend. So credit where credit is due on that one.
The real heroes here are the actual guys that painted the thing though. Can you imagine if this winter when it was 8 degrees someone was like "Hey I have a job for ya, you know The Sagamore Bridge? Yeah, we're gonna need you to paint that." You would laugh like you have never laughed before, it literally doesn't even seem possible.
I would rather get oral sex from a piranha than paint the Sagamore Bridge last winter.
P.S. We should still tear that fucker down.
Facebook: The Real Cape
Twitter: Hippie - Insane Tony