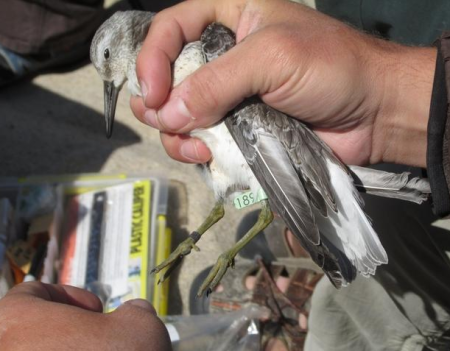 WL – Move over piping plover. There's a new federally listed bird on Cape Cod.

On Tuesday the U.S. Fish and Wildlife Service designated red knots as threatened. Specifically, just the rufa subspecies was so designated but that happens to be the one subspecies that visits Monomoy Island and nearby towns each summer.

"There's a staging area Chatham, Orleans, Eastham that's very important for red knots migrating south, far less important for northern migrants, but very important for southern migration from July to October," Stephanie Koch, a biologist at the Eastern Massachusetts National Wildlife Refuge, which oversees Monomoy Island. "They have a short breeding season (in northern Canada). The birds we see in July are birds that failed to nest. They're generally adults first and the juveniles are next to arrive."

The goal of the designation is to allow biologists to assess and provide for the needs of the species.
I suggest everyone heads down to their favorite beach to say their goodbyes ASAP. The Fish and Wildlife people are probably at Home Depot as we speak buying all the rope they can get their hands on to block off what's left our beaches. After the miserable failure of the Piping Plover conservation, it wouldn't even surprise me if they take all of our houses by eminent domain and kick us off the peninsula entirely.
From this day forth December 23rd will be known as Red Knot Tuesday, the first day of the Capeocalypse. We don't know who struck first, us or the Red Knots. But we do know it was us that scorched the sky. At the time, they were dependent on solar power. It was believed they would be unable to survive without an energy source as abundant as the sun.
Facebook: The Real Cape
Twitter: Hippie - Insane Tony