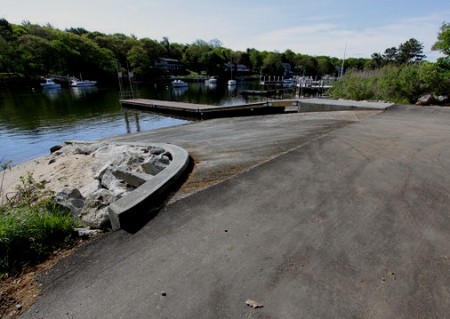 CapeNews – Many boaters attempting to launch their vessels at the popular White's Landing have left frustrated over the last few weeks, unable to slide their boats into the water because of the new ramp's faulty design.

Falmouth's most popular public boat ramp, located on Childs River, received an overhaul last month to repair its aging and decrepit concrete ramp, costing the state Office of Fishing and Boating Access $300,000.

However, the ramp was engineered with too gradual of a grade, based on there being three feet of water at mean low tide, when in fact the water is 1.5 feet there at the lowest tide, said Famouth Harbor Master Gregg P. Fraser.
YOU HAD ONE JOB. Seriously though, is this not the perfect example of why the government shouldn't be in charge of construction projects? Imagine if you were put in charge of building a boat ramp at work and you just straight up failed. You didn't make a crappy boat ramp, you made one that simply doesn't work half the time. You would be fired faster than Gary Busey on Celebrity Apprentice.
Not once, through the planning, designing, engineering or construction did one person notice that this new ramp wasn't going to work. Everyone just whistled Dixie, built a ramp all wrong and then went on their way. Then when boaters complain they're like "Oh, you wanted to use that ramp at high tide AND low tide? OK, no big deal, we'll just spend some more of your money to fix it."
A $300,000 boat ramp that doesn't launch boats at low tide. Take a bow Massachusetts, you never cease to amaze.
thanks to J.R. for the tip
Facebook: The Real Cape
Twitter: Hippie - Insane Tony
More Articles From The Real Cape: