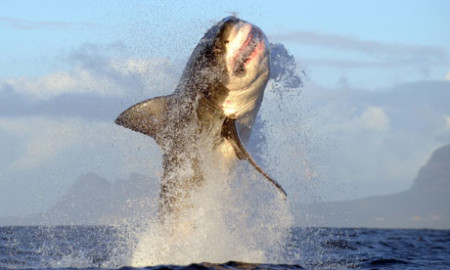 CCT – Whether fascination or fear sent them, people of all ages, locals and visitors, packed the auditorium of the Salt Pond Visitor Center in Eastham Tuesday night for an hour-long shark talk.

State Marine Fisheries Biologist John Chisholm had the crowd's full attention as he spoke about the white sharks who swim and feed in Cape Cod waters. Chisholm, along with Dr. Greg Skomal, are the lone (and very busy) members of the state's Shark Research Program.

Where you find seals, you'll find white sharks, according to Chisholm. Since 2009, Chisholm and Skomel have been tagging white sharks along Cape Cod–some as far up the coast as Nauset Beach, but most around Monomoy in Chatham–an area that Chisholm dubbed "Shark Cove".

Over those 4+ years, the marine biologists, with the assistance of spotter pilots and the father and son crew of the Ezyduzit, Captains Billy and Nick Chaprales, have tagged 39 white sharks with three different types of data tags.

"Shark Cove" is an especially good spot to find and tag sharks because of the abundance of seals and the wavy sand bars that bring the sharks close to the water's surface–right where the shark needs to be for tagging.
Excuse me? 39? I'm starting to think my irrational fear of sharks may not be so irrational after all. "Shark Cove" sounds like a real neat place. Oh the wavy sandbars bring the sharks right to where they need to be for tagging? Right to the surface you say? Do you know what else the surface is perfect for? EATING PEOPLE!
I know I've said it before, but this time I mean it. I'm done with swimming in the ocean. I thought white sharks were as rare as baby seagulls, but now I find out these guys have tagged 39 of them. 39! As a rule I don't enter areas where the amount of predators that can bite me in half are found in numbers greater than my age. Sorry ocean, you're out.
P.S. An "abundance of seals" to eat and nice sandbars. Cape Cod has officially become a 4th of July Cookout for Great White Sharks. Awesome.
Facebook: The Real Cape
Twitter: Hippie - Insane Tony