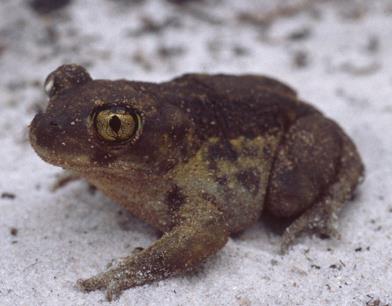 CapeCodToday.com – Cape Cod National Seashore (CCNS) Superintendent George Price today announced that occasional detours may be in place this over the course of the next six months on a portion of Province Lands Road in Provincetown.

In a release, CCNS said the traffic detours will be instituted to protect Eastern spadefoot toads. The Eastern spadefoot toad (Scaphiopus holbrookii), listed as threatened under the Massachusetts Endangered Species Act (MESA), breeds in shallow temporary ponds in the Province Lands. To access the ponds, the toads migrate across Province Lands Road on rainy nights, especially on evenings when the temperature exceeds 48 degrees and the water table is high.

Although not rare in the Province Lands, the toads would succumb to a high mortality rate if the detours were not put in place. "Spadefoot toad migration is an increasingly rare natural phenomenon that still occurs at Cape Cod National Seashore," said Superintendent Price.

Although they are protected under MESA, the Eastern spadefoot toad is not under the protection of the federal government.
Ok let's get this straight, we can't use miles of our beaches because of Piping Plovers and now we can't use entire sections of our roads because of toads? Where does this end? At some point we are going to shut down the Cape, blow up the bridges and not allow people here at all.
These aren't even the good kind of toads that you can lick and then trip your face of for a few hours either, these are just ugly little road toads. The way I see it we should make them play Frogger if they want to cross the street. Every species deals with natural enemies and last I checked humans are a natural being on this earth too, so why should we have to add time to our commute? We were the ones smart enough to invent roads and Buicks, not the stupid toads.
Listen, compassion is a great thing, but to the victor go the spoils you know what I mean? If you road toads want to avoid going extinct maybe you should learn how to build bridges, we've been doing that shit for thousands of years already. Meanwhile you guys still look like fucking dinosaurs, get your shit together and evolve will ya.
Facebook: The Real Cape
Twitter: Hippie - Insane Tony