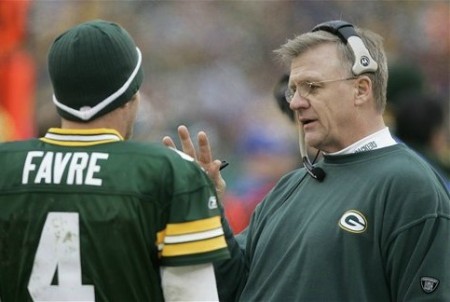 GLOBE – Former Green Bay Packers coach Mike Sherman has been named the new head coach at Nauset Regional in Eastham, according to a report in the Cape Cod Times.

Sherman, who was born in Norwood and now lives in Dennis, coached the Packers from 2000-05, directing them to three straight NFC North titles. He also was the head coach at Texas A&M, leading the Aggies to three bowl appearances in four seasons.

According to the report, Sherman has spent the last year on the Cape, doing occasional consulting work for the NFL and college teams.

"I felt after Miami I couldn't put my family through another move," Sherman told the Times. "We've been coming here almost every summer over the last 30-plus years as a family so we felt this was a natural fit for us to call Cape Cod home."
Makes perfect sense. I'd consider this a lateral move. If you're going from the NFL to high school, the best place to do it is in the center of the universe. Belichick lives on Nantucket in the summer, Sherman lives in Dennis, they might as well move the Hall of Fame from Canton to Hyannis at this point.
The big question is if Sherman is going to be able to figure out how to handle the pressure cooker of football on Cape Cod and the athleticism of Nauset kids? I mean Brett Favre and Sterling Sharpe are one thing, but the game is much faster in Eastham. I just hope he can devise a system that can take advantage of the high level of play when it comes to Cape football. You're in the big leagues now Mike, you better step up your game and lock yourself in the war room devising schemes or teams like Sandwich High are gonna steamroll all over you. Fair warning, you're on Cape Cod now bro, play time is over.
thanks to Brendan D for the tip
Facebook: The Real Cape
Twitter: Hippie - Insane Tony