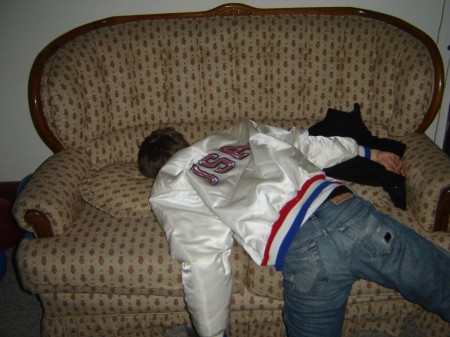 CapeCodOnline.com – A local man was arrested after breaking into a neighbor's house and falling asleep on the couch.

Police were called to 145 Wakeby Road at 6:30 a.m. Saturday after the homeowner found a stranger sleeping on a couch, Barnstable Police Sgt. Michael Riley said.

When Barnstable Police Officer Thomas Harmon arrived and tried to wake the man he wouldn't wake up at first and then asked if it was "'illegal to sleep or something?'" Riley said, adding that the man who was identified as Dude Guy, 26, of 184 Wakeby Road, smelled of alcohol.

When Harmon asked Dude Guy if he knew where he was Dude Guy responded with a question: "'Maine?'" according to Riley.

Dude Guy was placed in protective custody and will also be charged with breaking and entering, Riley said.
Dude Guy is back! Just kidding, this isn't the same Dude Guy that was doing wheelies down Main St., but we had to bring the Dude Guy name back for this one.
One of our steadfast rules here at The Real Cape is that we try not to blow people up when they do things that we could quite possibly do ourselves, and there is a 94% chance someone on The Real Cape staff does this exact thing by September. As a matter of fact, one of us may do this exact same thing this summer, but actually have woken up in Maine.
Poor Dude Guy, woke up on the wrong side of the strangers couch all cranky and demanded to know if it was illegal to sleep? Yes Dude Guy, unfortunately it is illegal to sleep in a total strangers home. We know that after a couple/twenty beers they all look the same on Cape Cod, but technically you were in the wrong.
P.S. There is a 137% that one of Dude Guy's buddies frames this article and gives it to him as a gift. This is the type of shit that is hilarious a few months down the line.
P.P.S. If you are the homeowner here do you call the cops? I don't think I could blame anyone for calling them, but I'm pretty sure I wake this kid up, make him some pancakes, and have a couple of laughs.
thanks to Jules for the tip
Facebook: The Real Cape
Twitter: Hippie - Insane Tony