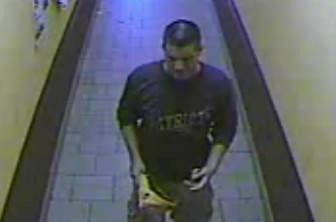 Fox – Police are asking for the public's help identifying a man who they say stole money that were supposed to be donations.

The man is suspected of stealing a donation jar from a nonprofit that is adjacent to Dunkin Donuts in Wellfleet. Police did not release the name of the nonprofit. The theft took place Monday, Sept. 29 just before noon, according to police.

Police released surveillance video of the suspect walking down a hallway before he put on a hat and walked out of view. Anyone with information on the man's identity is asked to call Officer Kevin LaRocco at 508-349-3702.
Since police didn't release the name of the nonprofit I will. It's called Mass Appeal and it is a FREE store for the needy, if that's not enough they also feed people, help domestic violence victims and give toys to children. Just watch this video…
So now that we know who he stole from we can all agree that this guy won the gold medal at the douchebag olympics right? How many places are there to steal from? How morally bankrupt do you have to be to steal from these saints?
This dude might as well have broken into a single mother's house, ate all her food, stolen her kids toys and punched her in the face on the way out, it pretty much accomplishes the same thing in the end.
Facebook: The Real Cape
Twitter: Hippie - Insane Tony
More Articles From The Real Cape: