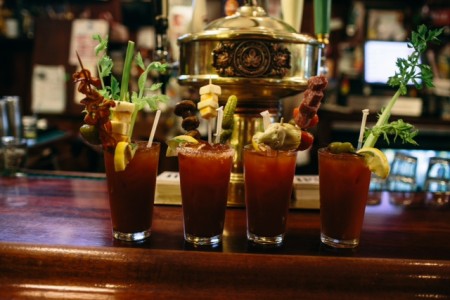 If you missed Liam Maguire's Sunday Funday brunch llast week then you probably heard about it. There were some insane musicians sitting in with The Silent Trees for some great acoustic jamming. In other words this is officially a don't miss event. If you are like me then your news feed has been blowing up with photos of the build your own Bloody Mary's. The things are famous at this point, but in case you haven't heard, you can customize them any way you want, to the point of gluttonous debauchery.
This is all happening right now 12-3 pm on Main St. in Famouth. If you see me behind one of  these in the corner, please don't bother me until at least half of my skewers are gone, the Great esCape needs ones FULL attention.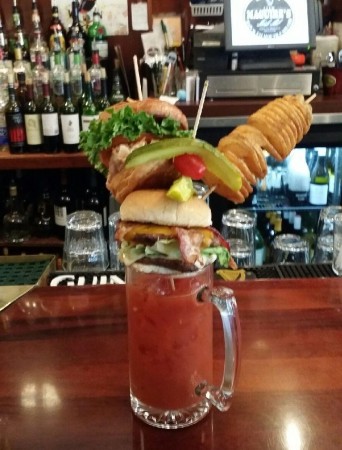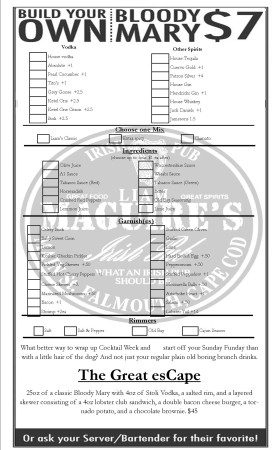 Sunday Brunch
Breakfast Burrito
Scrambled eggs, bacon, cheese, and two hash browns with an avocado chipotle aioli.
Irish Breakfast
Two eggs cooked to order, two rashers, two bangers, black and white pudding, home fries, and a fried tomato. Served with brown bread.
Crab cakes Eggs Benedict
Two English muffins topped with jumbo crab cakes, Irish bacon, poached eggs and our own homemade hollandaisesauce. Served with home fries.
French Toast
Three slices of thick cut Sourdough bread dipped in our own cinnamon French toast batter. Served with a side fresh fruit.
Chicken & Waffles
Habanero Guinness waffles with two fried chicken breasts, smothered in Southern style white gravy, made with our own bangers. Served with REAL New England Maple syrup and pickled vegetables.
Facebook: The Real Cape
Twitter: Hippie - Insane Tony