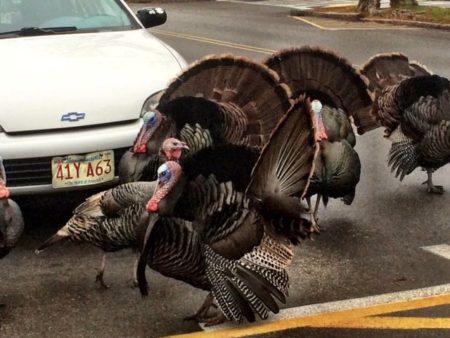 CN – The familiar sight of roaming turkeys on Main Street, Falmouth, is no more, as the rafter has disbanded following the euthanization of one of the more aggressive males three weeks ago.
It is the second male turkey in the Main Street group to be killed by Massachusetts Division of Fish and Wildlife personnel, the first one in January.

The flock, or rafter, appeared about a year ago, according to Main Street shop employees. But now they report only seeing one female walking the streets.

The turkeys roamed in groups of between four and 13, according to witness accounts, pecking at the ground, window shopping, puffing out their feathers, preening, posing for pictures with tourists, and slowly traversing Main Street and holding up traffic.

At times, though, they ruffled feathers.

The town and state received several complaint calls including from postal workers that prompted the latter to take action, state wildlife biologist David Scarpitti said.

"It was an ongoing issue in Falmouth," he said.

Three weeks ago they removed a second male and, shortly thereafter, the rafter dispersed.

But employees of the Main Street shop Board Stiff miss seeing the birds.
"Tourists loved them," manager Taylor Evangelista said.

The shop, with the help of local artists, created T-shirts that sell like hotcakes featuring the birds. One has a black turkey—a spoof on the Black Dog; another has a cartoon of a turkey chasing a person with 02540 underneath; and a third popular design shows a turkey on the back of a milk carton under the caption "Missing."

Rumors have been swirling up and down Main Street that the entire rafter had been euthanized, but Ms. Evangelista said she hopes they were part of a relocation program.
The company even created a Facebook page dedicated to the birds. Recent posts are of concern over the turkeys' whereabouts, and a cry to "Save the Turkeys!"
Listen, the turkeys were cute for a second. Everyone loved it when they would ruffle their feathers and the kids would ooh and ahh and everyone laughed and laughed.
Well you know who wasn't laughing? The mailman getting a talon up his ass crack every time he tried to deliver another val pak that's just gonna end up in the trash. You think the guy at Anejo who just had a $38 lobster enchilada ripped out of his hand by a 14 pound butterball gives a shit if the "tourists love them"?
Those bastards were getting brazen, it was only a matter of time until one of them pecked a pimpled little punks eye out and became public enemy number one. I don't give a shit how many T-shirts you sell to morons from Iowa, if there's a chance you can blind a kid any minute then you get a .22 caliber shot right between the eyes.
So put that on your Facebook page and smoke it, turkey tits.
Facebook: The Real Cape
Twitter: Hippie - Insane Tony
More Articles From The Real Cape: