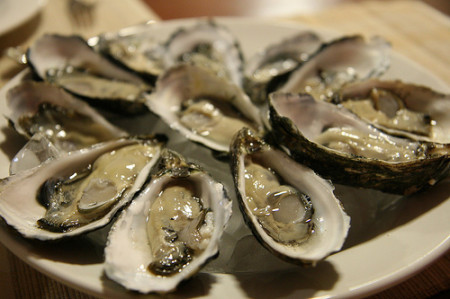 CapeCodOnline.com – Police say they know who stole more than $40,000 in oysters and equipment from beds in East Dennis and Barnstable last summer, but they're not quite ready to publicly name the culprit.

Barnstable police Lt. Sean Balcom, who heads the Barnstable Street Crime Unit, called the anticipated end of the five-month investigation by multiple public safety agencies "the result of police work and the rewards" that were offered.

The street crime unit was tipped to the identity of the poacher by one of its informants, Balcom said.

Rewards totaling $2,000 are being offered to the tipster if the guilty party is caught.

"We've definitely identified somebody," Balcom said Monday. "We caught him red-handed and anticipate charging him in the next couple weeks.

"Where he sold the oysters is going to come as a pretty big surprise."
I've said before that it is certainly not my place to tell the police how to do their jobs, but isn't it a bit strange to alert the press that you caught a thief and you "anticipate charging him in the next couple weeks"? Doesn't that kind of take away the element of surprise when you decide to arrest him? I get it, it's exciting news, but we can wait until it actually happens to find out. Haven't the Barnstable Police ever heard of the concept of jinxing?
If I'm the Dennis Oyster thief I'm halfway to Mexico right now to start a new life as The Acapulco Agave thief. Take my oyster money and parlay it into a new life south of the border. I mean there's no way this guy sticks around right? What life does a man have to look forward to on Cape Cod once he is branded a shellfish kleptomaniac? That is the Scarlet Letter of Cape Cod, they'll probably carve a big O into his chest.
P.S. How about the Police teasing us with that mystery cliffhanger line "Where he sold the oysters is going to come as a big surprise". I'm literally not going to be able to sleep until I find out. What could it possibly be? My bet is he sold them in the parking lot of Cuddles and Bubbles to couples looking for a cheap aphrodisiac.
Facebook: The Real Cape
Twitter: Hippie - Insane Tony