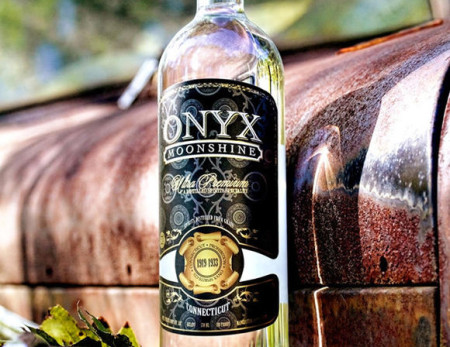 CapeCodOnline.com – Pete Hanlon sells his cranberries to a wide array of customers. That includes five Market Baskets including the Sagamore location, Big Y Supermarkets, several local stores and multiple jam businesses. But besides a one-and-done deal with a winery, Hanlon hasn't sold to any liquor-based businesses. Until now.

P.J. Cranberries of East Sandwich has teamed up with Onyx Moonshine, a Connecticut distillery. The East Hartford company hopes to start selling cranberry moonshine with fruit from Hanlon's bogs next month, said Onyx co-owner Adam von Gootkin. The distillery sells its moonshine in Massachusetts, Connecticut, Rhode Island and upstate New York.

"I have no questions they like the product and I like their product," Hanlon said, who sold the first order of cranberries to Onyx last fall. "I am impressed with their company and the people in the company." Hanlon said the deal also gets him more exposure to a larger market area. The label for the cranberry moonshine includes information about Hanlon's farm and the cranberry connection on Cape Cod. "People want to know where they are getting their food from and that is always the case," he said.

Both von Gootkin and co-owner Peter Kowalczyk grew up spending summers on the Cape. They formed Onyx in 2011 and started trying out "infused" moonshine last fall with Connecticut honeycrisp apples. The cranberries are the second line, von Gootkin said.
Wait just a cranberry pickin' minute here. A company is using Cape Cod cranberries to infuse their moonshine with and we don't get a press release? Onyx, guys, I know you are in Connecticut but get with the program. If you want to reach everyone on Cape Cod who is a potential moonshine customer then the list begins and ends with The Real Cape readers. If this stuff is any good our Brewster readers alone will drink 90% of it. The only problem will be how to get it to them because nobody can figure out where the hell Brewster is, but you get the point.
Now here's the real reason we are posting this; Somewhere in a carriage house, in a field on Cape Cod, there is someone already making cranberry moonshine who definitely isn't sending press releases to the Cape Cod Times. If you are the Tickle of Cape Cod and you read this site please contact us immediately, we will sign a standard website/moonshiner confidentiality form and take it from there.
P.S. If someone should happen to show up for the Cape wide pub crawl with some cranberry moonshine, that person would not regret the decision one bit.
Facebook: The Real Cape
Twitter: Hippie - Insane Tony