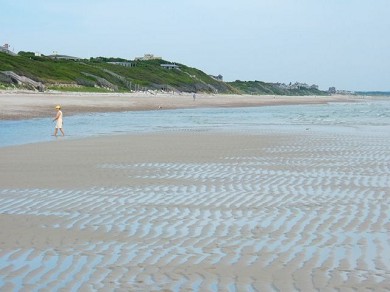 CapeCodOnline.com – Three hikers were rescued after they became stranded off Sandy Neck Beach on Monday, Barnstable fire Capt. Christopher Beal said.

At around 9:15 a.m. emergency responders were alerted to the hikers stuck on a sandbar as the tide rose, he said. A rescue boat was dispatched and brought the three to shore, Beal said.

There were no injuries.
What the hell? It takes six hours to go from low tide to high tide. Did these people go out on a sand bar and eat Turkey legs sprinkled with Ambien and wash it down with warm milk?  That's the only explanation right? They had to be unconscious. If not how does nobody notice the ocean rising and the land disappearing over a six hour period.
P.S. In related news a man was attacked by a slug today. Initial reports stated that the man first noticed the slug heading towards him around 12 noon, he was unable to escape and the assault took place at 6 p.m.
DISCLAIMER: They weren't rocket scientists, that was sarcasm.
Facebook: The Real Cape
Twitter: Hippie - Insane Tony