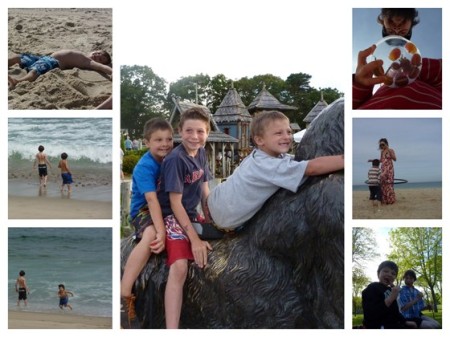 There will be no jokes in this post. We have been sent this story by quite a few people and immediately knew it had to be shared. Separating these three boys would be nothing short of tragic. Below is an excerpt of their story, but we highly suggest you click the link and read the entire thing. Sometimes it takes a village and sometimes it takes a peninsula. Cape Cod should rally around these folks and help them stay together as a family.
CLICK HERE to read the entire story and help out in any way you can…
When we first took emergency guardianship of these innocent boys, we pulled them out of a domestically violent and drug abused home. This was not a home for them, it was a scary place that they never wanted to go back to, screaming and crying before ever having to enter. They will never have to face that again. Escorted by police and with custody papers in my hand and my dad by my side with papers in his hands, we rescued those boys from that sad story. At that time they stayed in my parent's home, as my fiancé, Byron, and I lived in a 500 square foot studio apartment. We all loved, cared and comforted them, and at the end of the night they had a warm bed waiting for them with their loving Nana and Papa.

After a year and a half of all of us taking care of these amazingly resilient kids, and their mother completing the programs she had to complete and having a year of sobriety, we released our guardianship back to her on September 19th 2013, in faith that she was ready to be a mother to them. Through the program she'd completed, the state provided her with a transitional home, where her three boys were able to reside with her.

Faith is a beautiful thing to have, but unfortunately after only a few months back with her children, she turned back toward drug abuse. On January 15th I received a call from the Department of Children and Families, prompting us to travel over the cape cod bridge immediately, to rescue the boys. So we got in the car, we picked them up and we brought them back to our small town, to our tiny 500 square foot studio apartment where our two cats awaited our return.

DCF told me that I had to file for Guardianship of the three boys again, or the state will take them, ship them off to foster homes and assured me that they would unfortunately have to separate all three of them because it is so hard to find a foster home for one child, let alone three. So as of January 17th, we are their Guardians once again, and forever. We will not let them be taken by the state to be separated from each other and from the only stable people in their lives who have never left them.
CLICK HERE to read the rest and help any way you can.
Share this story with as many people as you can.
Facebook: The Real Cape
Twitter: Hippie - Insane Tony
More Articles From The Real Cape: