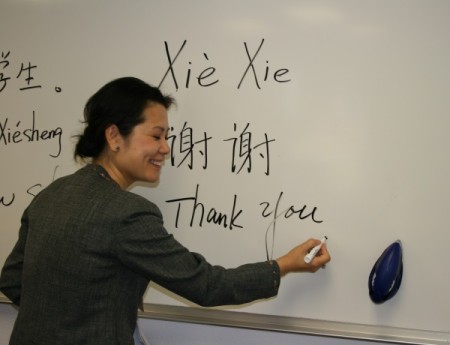 CapeNews.net – Mashpee schools will offer a new language program next year.

The Mashpee School Committee unanimously approved a new program of studies for the Mashpee Middle/High School that, among other changes, will establish the beginnings of a Mandarin program, a Chinese language that more than 1 billion people in the world speak. The program will expand upon the two languages offered at the high school, French and Spanish. Superintendent Brian A. Hyde said that there is a need for additional language classes at the high school level as both offerings are heavily attended.
Smart move. Besides the fact that China is a global economic superpower and knowing the language is a big advantage in any international business. It makes more sense to learn Mandarin than French even if you never leave your hometown. I'd learn it  just for ordering at restaurants.
Think about it, if you go into a bistro, it doesn't matter one bit if you order haricot vert and pommes frites or green beans and french fries, you're gonna get the same thing either way. But if you roll up on the Shanghai and bust out your order in Mandarin they will probably be so excited to hear their native tongue that they'll go into some secret top shelf room and get you a pu pu platter without Shar Pei in it. Plus, you can order your cocaine as loud as you want and nobody will know, which is nice.
Facebook: The Real Cape
Twitter: Hippie - Insane Tony