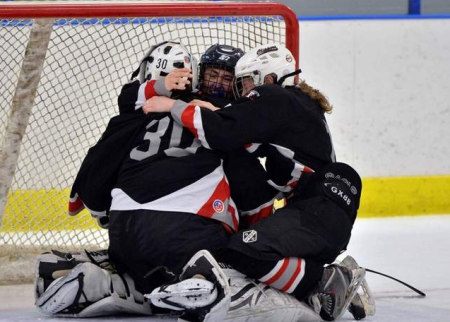 Wicked Local – National champions.

Those words have a special ring to them and they now apply to the Cape Cod Storm U19 team after winning six games in five days in the Toyota-USA Hockey Tier II Girls National Championships in Amherst, N.Y.

"For me it is a great sigh of relief to have won this," said head coach Scott Ghelfi. "We won our states Dec. 1st and I have been thinking, planning and dreaming of this moment since then. I felt all winter as I watched these girls play for their respective high schools that they have all gotten so good and are all playing at the tops of their games … that we have a shot at this."

The Storm had more than a shot at it. They were ranked No. 1 in the country from November, and proved it was on the money, outscoring six opponents 29-4.
Editor's note: In our never ending quest to be the best website on Cape Cod we now have a sports writer on board. If you have any tips on local sports stories that need to be told be sure to send us an email and let us know. Now without further ado here is the first post from our sports guy Drank Moody:
This just goes to show you how dominant Cape Cod hockey is. The Storm outscored their opponents 29-4 in the championship series. I don't even know what to say about that, imagine if the Bruins outscored an opponent in the Stanley Cup 29-4 – it would be NHL history.
I'm confused about a couple of things here- first being, was the offense just so dominant that opposing teams could rarely get scoring opportunities or good looks at shots? Or is their goalie Maggie Scavatto just some sort of brick-wall demigod?
Secondly, are the storm just some sort of typical Massachusetts hockey powerhouse, absolutely manhandling every team from an abandoned area of a wannabe "hockey-state" or were these teams just incapable of playing hockey? They beat Alaska 5-1. What else do kids in Alaska have to do besides play hockey or learn how to ice fish?
The box scores from the championship series tell the story of this year's Bruins team playing against the original Mighty Ducks team over and over. I'm talking the Ducks way before Charlie Conway triple-dekes, like just after Gordon Bombay's DUI. I'm actually convinced they kept the championship close for cinematic reasons.
Either way this is a huge accomplishment and congrats to coach Scott Ghelfi and  the girls of the Storm on their beyond impressive run.
Facebook: The Real Cape
Twitter: Hippie - Insane Tony