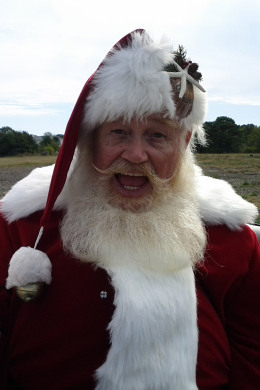 TIME – Mashpee Commons in Mashpee, Massachusetts (Fridays and Saturdays)

While you'll find Scott Calkin, 66, making a dramatic entrance at Nantucket's annual Christmas Stroll via Coast Guard vessel instead of a sleigh, he also volunteers for HopeHealth's Hospice programs in Cape Cod, sits with Alzheimer's patients, and makes house calls for terminally ill pediatric patients. He gives out fleece scarves with mittens on either end called "Santa's Hugs" so that the "children can give themselves a hug when they need one."
That's what I'm talking about! Cape Santa doing big things on the national stage. Just look at the Santa swagger on Scott Calkin. He is killing it with the handlebar mustache, starfish combo. The rest of us wish we had half as much swagger as the Mashpee Santa.
Most importantly, Santa, if you are reading this, sign me up for one of those scarves with the mittens on each end. A self hugging apparatus? Yes please! I will whisper sweet nothings into my own ear while I hold myself tight all day long.
Cape Cod just dominating lately with the best chips, happiest towns, and now the best Santa. It's like a heavyweight holding all three belts at once. Cape Cod has unified the title!
Facebook: The Real Cape
Twitter: Hippie - Insane Tony