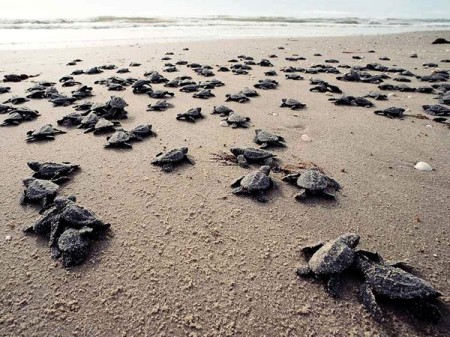 Globe – Each year, about 90 or so young Kemp's Ridley sea turtles get lost trying to go around Cape Cod, become stunned by the cold, and wash up on a beach, their bodies in a bad way.

The number of strandings has been increasing steadily, which could be a sign of growth in the population of the world's most endangered sea turtle.

But what is happening on Cape Cod Bay this fall is unprecedented, "an outlier of outliers," said Tony LaCasse, a spokesman for the New England Aquarium.

Three weeks into stranding season — just a third of the way — rescuers have picked nearly 400 turtles off the beaches of Cape Cod Bay, double the previous record. In the past week, steady northwest winds helped to push more than 300 onto beaches.

There is a backlog of turtles at the Massachusetts Audubon Sanctuary at Wellfleet Bay, which has been collecting them, waiting for room at the New England Aquarium's marine animal hospital in Quincy, which has been flooded with incoming patients.

On Tuesday, the Coast Guard will fly 193 of the Kemp's ridley sea turtles to Orlando, where they will be shared among 10 marine rehabilitation facilities.
They get lost trying to go around the Cape? Hey turtles, ever hear of a thing called The Cape Cod Canal? It's been there for a hundred years, you'd think one of you would have spread the word by now.
Talk about Cape Cod Problems though huh? There are people all over the country that can't afford to get to their families for Thanksgiving this week and meanwhile 193 Cape Cod turtles will be on the red eye to Boca.
Facebook: The Real Cape
Twitter: Hippie - Insane Tony
More Articles From The Real Cape: