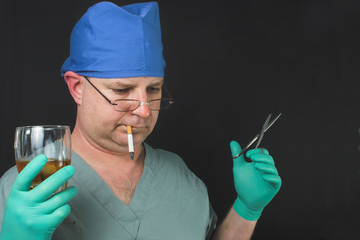 Barnstable Patrtiot – A former Cape Cod Hospital doctor had her license to practice suspended indefinitely on Nov. 19 after she admitted to performing a colonoscopy on a patient while she was drunk.

The Massachusetts Board of Registration in Medicine said Friday that it took action against Dr. Kathleen E. Koehler after she admitted to the ethical breach in the medical procedure. The complaint against her says she performed the drunken colonoscopy on March 4, 2013.

Koehler is a graduate of the Albert Einstein School of Medicine Yeshiva University and has been a licensed physician in Massachusetts since 1985. She is board certified in internal medicine and gastroenterology. Her most recent employer was Cape Cod Hospital, according to the board.
Wait, is there a better time to do a colonoscopy than after a few drinks? Listen, there's a ton of medical procedures I want my doctor sober for, but a colonoscopy just isn't one of them. Have some drinks doc, smoke a little weed, light some incense and dim the lights. If you're gonna stick something up my butt I'd much rather you make yourself comfortable and set the mood first. Who wants an uptight sober person putting something in their anal cavity in some bright, stale room? I'll take my colonoscopy from a buzzed up doctor in a dark room with tapestries and lava lamps every time thank you.
Yup, I'm siding with the doc on this one. If we start firing people every time they get a little tipsy and try to perform a colonoscopy, we'll have a bunch of unemployed husbands when they get home tonight after the Pats game.
Facebook: The Real Cape
Twitter: Hippie - Insane Tony