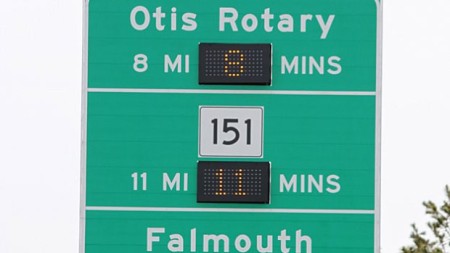 CapeCodOnline.com – BOSTON – Massachusetts drivers will soon have a little extra help navigating the state's traffic hotspots.

Gov. Deval Patrick and transportation officials announced a $17.5 million project today to place permanent electronic signs on state highways that provide motorists with real-time information on how long their commute will take.

The first permanent signs are already up on Route 6 on Cape Cod. The signs project will expand statewide, wrapping up by the end of 2015

The system uses Bluetooth technology to estimate travel time between two locations.

Others major roadways where the signs will be placed include Interstates 93, 95, 195 and 495, a portion of Interstate 91, and the entire length of the Massachusetts Turnpike.

Patrick says commuting is more manageable when you know how long it will take to get from point A to point B.
So this story is everywhere lately. We've got the Governor and a bunch of "transportation officials" all in a circle jerk over these real time traffic signs like they just solved world hunger or something. I for one am wondering why anyone should give a shit about these things?
What good does it do you to know that there is traffic, when you are already sitting in the fucking traffic? "Oh look, another hour and a half to go eight miles, good thing that sign just told me that since there is not a single god damn thing I can do about it".
How about Deval getting all righteous saying that "commuting is more manageable when you know how long it will take to get from point A to point B"? Yeah, no shit gov, but you need to know that information BEFORE you leave, not halfway there. What are you supposed to do with the knowledge that there is traffic after you're already on the road? Go back in time and leave earlier? It makes zero sense.
The only thing these signs will change is that from now on when you get stuck in traffic you'll know about how long your life is going to suck  instead of guessing. They will not actually help anyone get anywhere any faster or on time.
Facebook: The Real Cape
Twitter: Hippie - Insane Tony
More Articles From The Real Cape: