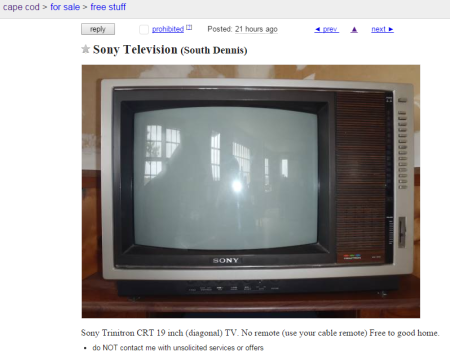 Craigslist – Sony Television (South Dennis)

Sony Trinitron CRT 19 inch (diagonal) TV. No remote (use your cable remote) Free to good home.
First off, the entire "FREE" section of Craigslist should be renamed the "SAVE ME A TRIP TO THE DUMP" section. It is unreal what people list in there.
As for this TV ad, are they really saying there is no remote but the new owner should just use their cable remote? You honestly think that anyone who wants this piece of shit has cable? Use your cable remote, sure, while your at it why don't you suggest the new owner puts rocket fuel in their '83 YUGO. Maybe top their Hot Pocket dinner with Beluga Caviar?
The most hilarious thing is the "free to a good home" part though right? A good home my ass. Any home that needs a 19″ Sony TV that you pillaged during the war of 1812 is NOT going to be a "good home". You're gonna need to get over the fact that your TV is headed for a toxic environment where it will undoubtedly be verbally and physically abused, eventually being converted into some MacGyver style crack pipe. A good home. Talk about living in La La Land.
Facebook: The Real Cape
Twitter: Hippie - Insane Tony
More Articles From The Real Cape: