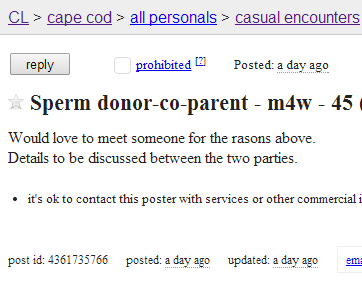 CL – Sperm donor-co-parent – m4w – 45

age : 45 body : athletic height : 5'5″ (165cm) status : separated

Would love to meet someone for the rasons above.
Details to be discussed between the two parties.
Ladies you would have to be crazy to not answer this ad. What woman wouldn't want to have a child with a still married, 5′ 5″ tall, 45 year old man that is so serious about having a baby that he took the time to put a two sentence ad in the casual encounters section of Craigslist?
This is a once in a lifetime chance to get your hands on some sperm with absolutely spectacular genes. This kid would be practically guaranteed to end up a sociopathic midget with no friends and the literary skills of a newt. But hey, at least when your friends start questioning why little Frankie is wearing blue lipstick and lighting hamsters on fire in the backyard you can always say, "Oh he get's that from his father's side" and nobody will doubt you for a nanosecond.
P.S. Posting an ad to have a baby with someone in the casual encounters section of Craigslist should be punishable by court ordered vasectomy right? It simply can not get any more batshit crazy than that. It just can't.
Facebook: The Real Cape
Twitter: Hippie - Insane Tony
More Articles From The Real Cape: