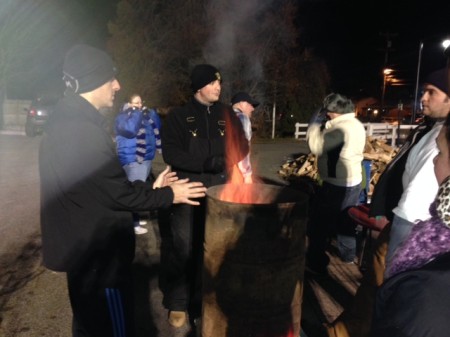 FALMOUTH – Falmouth Firefighters Local 1397 and Bourne Firefighters Local 1717 will go "homeless for the holidays" next week to benefit a worthy local cause.

With the support of Pixy 103 FM andY101 FM, the firefighters will "camp out" at PAL of Cape Cod beginning Wednesday, December 11 at 8 a.m. through noon on Sunday, November 15.

During that 101-hour period, firefighters will be collecting new unwrapped toys, non-perishable food and cash donations to benefit the Falmouth Service Center.

This is the first year Falmouth firefighters will be hosting the annual holiday event, according to Michael Mueller of Falmouth Firefighters Local 1397. The event has been hosted by Bourne firefighters for the past ten years.

More information is available on the Local 1397 Facebook page here.

PAL of Cape Cod is at 279 Brick Kiln Road in East Falmouth.
And Bourne…
BOURNE – Bourne Firefighters are braving the cold for 103 hours to help out some local charities.

"We do it because it's a great cause and it helps out our community," said Brian Rooney, Firefighter.

They started Wednesday morning and will stay outside the Bay Motor Inn on Main Street in Bourne until Sunday afternoon.

The firefighters team up with radio station Pixy 103 for the fundraiser, which is called Homeless for the Holidays.  It has raised more than a hundred thousand dollars over the last 12 years.

The firefighters say the cold doesn't even cross their minds.

"We have a couple of barrels of fire going," said Rooney.

"It's all about the layers," said Matt Barry, Pixy 103.

People making donations are inspired by the firefighter's efforts.

"They stand out here, it's so cold, every year when I come it's snowing, freezing.  It's so cold and they stand here every year," said Beth Snyder.

"God bless them, that's all I got to say God bless them be with them keeping them going, coming back every year to help the little kids, help the families that need it," said Gina Monteiro.

The firefighters say anyone is welcome to stop by no matter what time whether it's 2 pm or 2 am.
No jokes, just good people doing good things.
Facebook: The Real Cape
Twitter: Hippie - Insane Tony
More Articles From The Real Cape: