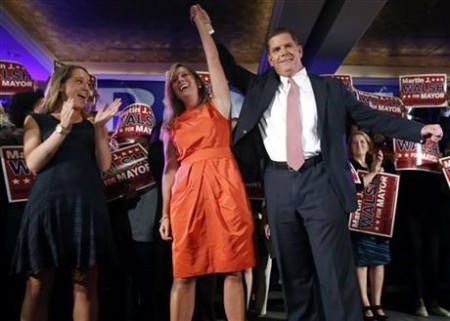 Boston.com – Fun fact: The mayor of Boston is required by law to notify the City Council whenever he leaves the city. He's also required to say when he's coming back.

Marty Walsh forgot about this before heading out to Cape Cod earlier this week, according to The Boston Globe, but the issue was resolved on Friday when a member of his staff filed an official letter with the clerk's office.

Press secretary Kate Norton told The Globe that Walsh will spend two weeks on the Cape. He'll travel to and from Boston intermittently during that time.
Marty Walsh needs permission to travel to Cape Cod? What is he going to get grounded or something? Is he on house arrest? It doesn't seem to make much sense, it's not like he's leaving the country.
Anyway, Marty is like the anti-fun police mayor. He has fought for bars in Boston to be open until 4 a.m. and the T runs much later now because of him, which fixed one of the more ridiculous problems in Boston. I like to call him Mayor Marty "The Party" Walsh.
So on behalf of all of Cape Cod, I'd just like to say that you are welcome here anytime Mr. Mayor. Maybe you could visit some of our local politicians and teach them a thing or two about making rational decisions that make people actually want to live in and visit your district.
Facebook: The Real Cape
Twitter: Hippie - Insane Tony