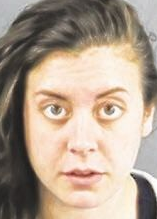 Capecodonline.com – A woman being held on bail at the Barnstable County Correctional Facility was caught Tuesday with 18 small bags of drugs concealed in a body cavity, according to a statement released by Barnstable County Sheriff James Cummings.

Michelle Hayduk, 25, of South Dennis, was being held out of Barnstable District Court on bail, according to Cummings and court documents.

The Cape and Islands District Attorney's Office passed on information that Hayduk might have hidden drugs on her body, prompting deputy sheriffs from the jail's special operations unit to interview her, according to Cummings.

She denied having drugs but agreed to an X-ray, which was taken at the jail using a portable machine leased by the sheriff's office for injuries suffered in the facility, Cummings said.

When deputy sheriffs confronted Hayduk with an image that showed a foreign object in her vaginal cavity, she admitted to having drugs and produced a bag with 18 individual gram-size bags containing white and brown powder believed to be cocaine and heroin, according to the sheriff's office.
This is like a crackhead's dream right? Finding a girl with drugs in her vagina is the stuff that they probably think about for 9 hours straight when they are strung out. This girl would have the best profile ever if there was a crackmatch.com.
"I like long walks on the beach (I mean ones that last 3 days). I have fresh track marks. I LOVE taking spontaneous mini vacations at the House of Corrections in Barnstable and oh yeah, I have 18 grams of coke and heroin in my vagina!"
Tell me she wouldn't get about 837 matches on her JunkieTinder app in like the first 8 seconds.
P.S. If that mugshot doesn't scream "there's drugs in my vag" then I don't know what does.
Facebook: The Real Cape
Twitter: Hippie - Insane Tony