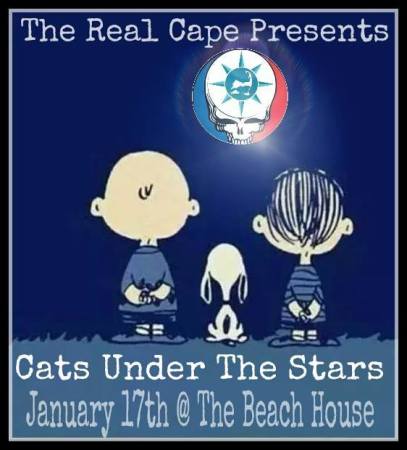 Cats Under The Stars brings you the songs of the Jerry Garcia Band with authenticity. With a stunning live performance and a front man that has been dubbed "Jerry Jr.", Cats Under The Stars is the real deal!

Their remarkable sound caused David Kemper, Drummer of Jerry Garcia Band to say, "I think your band is at the top of the heap of JGB inspired bands. Zach plays more like ol' Jer than anyone I've heard, and you all treat songs very much as we tried to do so many years ago. Best of luck to you all, with respect, David Kemper".
Oh yeah we are getting our Jerry on this weekend. What a great way to follow up our epic Wailers show huh? Good people, good vibes and some good old fashioned, down home, face melting with the premier Jerry Garcia Tribute Band out there today. The best part? It's free. That's right FREE. Head on down to The Beach House this Saturday and forget about old man winter for a few hours. If you haven't been to a Real Cape party yet, then you are long overdue, just ask someone who has and you'll find out real quick that they are always a great experience.
Make sure to join the event page HERE and you just might get a nice surprise at the show.
P.S. What's the best thing about a JGB tribute band? No chance of a 20 minute looks like rain from short shorts.
h/t to Billy the One for putting this together
Facebook: The Real Cape
Twitter: Hippie - Insane Tony