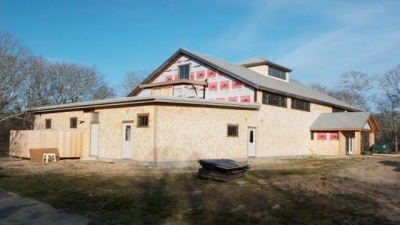 Full Story – The Wampanoag Tribe of Aquinnah today declared it has won federal approval to open a casino on its tribal land on Martha's Vineyard, introducing a surprising new wrinkle to the state's unsettled gambling industry.

The tribe pledges to now move ahead with a plan to convert an unfinished tribal community center on the island into a temporary casino, until a permanent facility can be built.
Last week we talked about what the Mashpee Wampanoag Casino will do to our townie wallets. I joked about how we will all be broke every Monday because there is nothing to do on Cape in the off season. Well that was child's play compared to this Casino that looks like it's going to happen on The Vineyard (yes that is really a photo of the building).
Let me preface this by saying again that I am all for tribal casinos, the Wampanoag's deserve every cent they make from these, but holy crap is a casino on the Vineyard an absolute game changer. Year round residents won't be broke on Monday, they will be for real broke, like Detroit broke.
Imagine being trapped on an island in February with a god damn casino? We think there is nothing to do on the peninsula in the winter, but the islands are an entirely different animal. This will decimate the locals. After this casino opens there will be three distinct classes of people on Martha's Vineyard:
1. Summer People
2. People Who Don't Drink
3. Homeless People
That's it, that's the list. The day this thing opens the locals who drink alcohol might as well quit their jobs, hand their kids over to DSS, and then drive right over to the casino to drop off the deeds to their houses and the titles to their cars. Why delay the inevitable just get it all done as fast as possible, hit the roulette table and put what's left on black.
Facebook: The Real Cape
Twitter: Hippie - Insane Tony