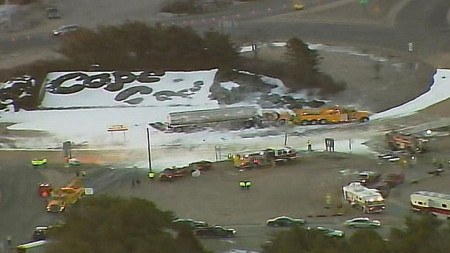 Globe – The driver of a tractor-trailer that overturned at the Bourne South Rotary last week, spilling about 5,000 gallons of gasoline, is being charged with three motor vehicle offenses, State Police said.

Thomas Medeiros, 47, of Westport, faces charges of negligent operation of a motor vehicle, operating at a speed greater than reasonable and proper, and failure to stay within marked lanes, State Police spokesman Dave Procopio said in a statement.

Medeiros was driving a tanker filled with about 11,500 gallons of gasoline when it overturned at about 11 p.m. on March 24, State Police said. The accident forced the rotary and the Bourne Bridge to close for about 10 hours, according to State Police.

Partial closures continue as environmental cleanup proceeds in the rotary area, Procopio said.
Waterboard him! We've already established that this heinous attack on the Cape Cod bushes could not have been the work of a lone driver. Someone is conspiring against us and I want this man held as an enemy of the Cape until he reveals every last detail of this heinous plot.
It's time we institute the Capetriot Act and give our authorities the ability to hold our enemies without bail or due process. A nice little detainment camp on Cuttyhunk will do just fine. This war has many fronts, our borders are under siege from across the canal, the skies are not safe from god himself and we have been infiltrated in our own neighborhoods by The Fun Police.
If we have learned anything from our federal government it should be that whenever we feel threatened in any way, the only proper response is to create hysteria and then use it as an excuse to subjugate ourselves through the unlawful removal of personal freedoms. Together we can defeat this invisible enemy, but in order to do so we must sacrifice our inalienable rights and do tons of shopping.
Just remember one thing my fellow Cape Codders… shop local!
Facebook: The Real Cape
Twitter: Hippie - Insane Tony