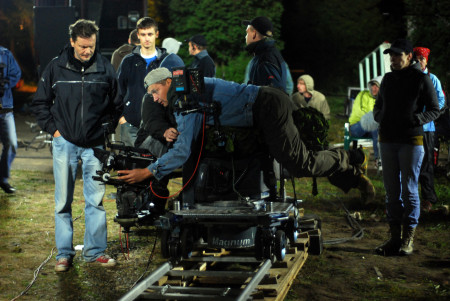 Capecodonline.com – Over 60 years ago, what is known as the greatest small-boat rescue in Coast Guard history occurred off the shore of this seaside town, when waves from a severe nor'easter snapped a 503-foot tanker in two.

Four young Coast Guardsmen braved high seas, wind and driving snow in a small wooden vessel to save 32 seamen that day from the sinking stern section. Seven crewmen and the tanker's captain lost their lives when the bow sank.

In December, the heroic tale will be recreated in downtown Chatham when filming commences on a Disney-financed production on the rescue that is set to premiere next year.

"Everything is on schedule. They're looking to start filming the first few weeks in December," said Chatham Police Chief Mark Pawlina, who issued a production permit to Disney. "We're hoping it will have as minimal impact as possible on the town."

"The Finest Hours," which is based off Casey Sherman's and Michael J. Tougias' best-selling book with the same title, will star Chris Pine, Academy Award and Golden Globe nominee Casey Affleck and Holliday Grainger, according to a statement from Disney.
How much do you want to bet that The Fun Police will find some way to complain about this? Some self important prick is going to get to his usual parking spot by the harbor and Casey Affleck is going to be taking a shit in a Porta Potty right where he usually puts his BMW. Mark it down folks, NostraHippie has spoken.
Luckily people have a hard on for celebrities and movies in general. I'm pretty sure even the Fun Police are no match for a giant Hollywood production, tons of money, and national recognition for the Cape. At least let's hope so…
Facebook: The Real Cape
Twitter: Hippie - Insane Tony
More Articles From The Real Cape: