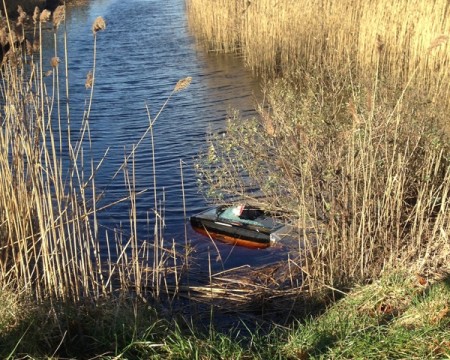 CCT – A Truro woman was not injured when her Prius slid into the Pamet River Monday morning. According to a Truro police release, 73-year-old Carol Klass of 10 Scrimshaw Street in Truro, mistook the accelerator for the brake while trying to park at the Truro Post Office.

Ms. Klass's 2012 Toyota Prius overshot the parking space and slid down the bank into the Pamet River. Ms. Klass was able to crawl out the window and up the marsh bank, police said. She then requested assistance from post office personnel.
Ahhh… the old "thought the gas was the brake" story. These are usually followed by a few jokes about old people and how they shouldn't be allowed to drive. Well not this time. Carol Klass may not know the difference between pedals but she makes up for it with her Navy Seal antics.
While most 74 year old's are out cane shopping Carol is escaping car windows, breathing through a bamboo snorkel doing the breast stroke down the Pamet River. Not only should she keep her license, we should probably sign her up for BUDS training and send her on some special ops.
Facebook: The Real Cape
Twitter: Hippie - Insane Tony
More Articles From The Real Cape: