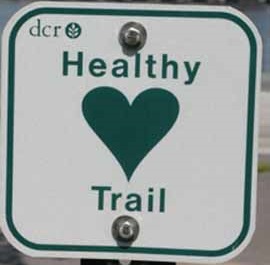 CCT – It's officially fall–time for festival foods, Halloween candy and Thanksgiving turkey. Which means it is the perfect time to exercise and keep those potential party pounds off.

Earlier this year, the state Department of Conservation and Recreation (DCR) implemented the Healthy Heart Initiative. Under the program, 70+ trails across the commonwealth were designated heart healthy. Five of those trails are here on Cape Cod.
What the hell is a "healthy" trail? Or more importantly, what the hell is an unhealthy trail? All but five of our trails on Cape Cod aren't "healthy"? Do they have Ring Dings lining them like cobblestones and complimentary four wheelers so you don't have to walk? I guess the five "healthy" ones don't have escalators instead of hills and you are forced to do sit ups every 100 yards?
This is an ugly trend we are facing by stretching the truth when labeling things. It's kind of like all these foods in the supermarket that say things like "all natural" on the label. Sorry, but that doesn't mean it's healthy, it just means that your cereal doesn't have synthetic moon rocks in it. Calling a trail "healthy" is like calling a bathing suit "sexy". The truth of such statements REALLY depends on what you do with it.
I have a secret for you, simply meandering down a trail in the woods doesn't make you "healthy". Like most people who grew up on Cape Cod, I used to walk in the woods all the time smoking butts and drinking beer, I'm pretty sure that doesn't make me Arnold Schwarzenegger.
A healthy trail… so preposterous, I suppose it's probably gluten free too right?
Facebook: The Real Cape
Twitter: Hippie - Insane Tony