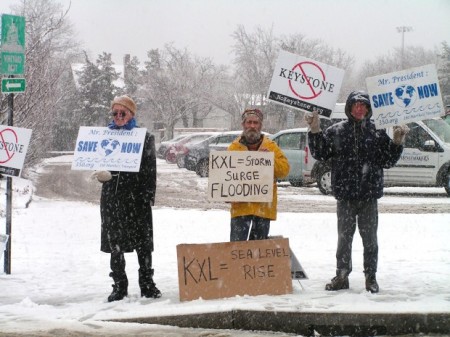 MVTimes.com – Braving sleet and snow Monday, about 12 people from the environmental group 350 Martha's Vineyard Island (350 MVI) held an hour-long vigil at the Five Corners intersection to demand that President Barack Obama reject the proposed Keystone XL Pipeline.

The $5.4 billion pipeline would carry crude oil from tar sands in western Canada to refineries along the Texas Gulf Coast.
Well that should do it. Looks like the oil companies can kiss their $5.4 billion pipeline goodbye. No chance Obama can stand up to the kind of political pressure 350 MVI is throwing at him right now. I am sure The White House was closely monitoring the situation at this protest. You never know when you might need to call in The National Guard to keep the order.
Not that Obama will even need to reject the pipeline. I'm sure the photo above made it to the oil companies by now and they've realized they are just outclassed. The signs alone make it obvious that these protesters simply have deeper pockets than oil companies but the total disregard for snow really proves that these people are up for a fight. That sound you hear is the oil companies and Obama scrambling to cancel the pipeline project before shit gets ugly.
P.S. "About 12 people" is an interesting way to say it. Apparently the crowd was so big this reporter had to estimate the number of people at somewhere in the dozen range. Seems legit.
Facebook: The Real Cape
Twitter: Hippie - Insane Tony